BACK TO MAJOR GENERAL CLEMENTS MCMULLEN BIOGRAPHY
BIOGRAPHY
LIEUTENANT COLONEL
FRANK MCCOY MCMULLEN, USAF
(Son of Major General Clements McMullen)
<![if !vml]>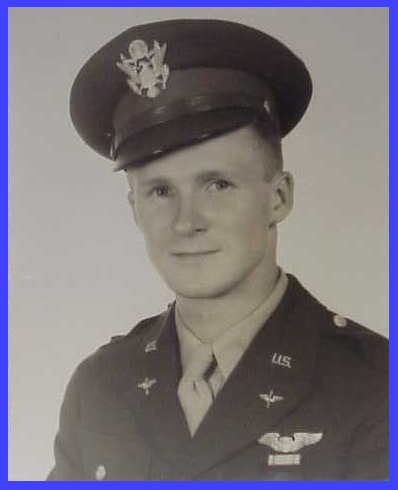 <![endif]>
Figure 1: Lieutenant Frank McCoy McMullen
just after receiving his wings.
The estate of Lieutenant Colonel McMullen provided information and photographs pertaining to himself, Major General Clements McMullen, and the general's family. In that regard it is an important source of data for the Major General Clements McMullen collection. Over the years, starting with his graduation from West Point in 1943, Colonel McMullen retained original copies of his military orders up to his retirement in 1968. However, his collection of military orders is not complete. There are periods of time in which there are gaps in the time line.
On 15 August 1917, Major Arthur Dow Newman, US Army married Miss Adelaide Palmer Lewis, daughter of Brigadier General and Mrs. Edward M. Lewis in Springfield, Illinois. By 1921, the couple had two children, Edward Lewis Newman born 19 April 1919 and Frank McCoy Newman born 12 September 1920 in Little Rock, Arkansas.
<![if !vml]>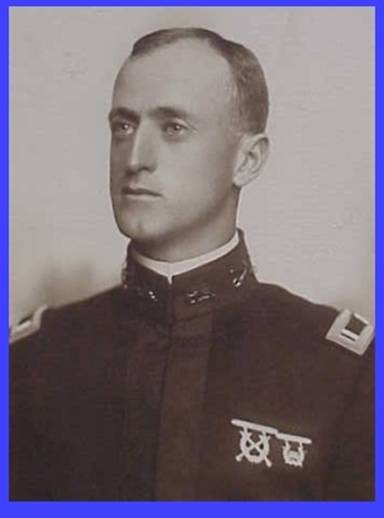 <![endif]>
Figure 2: Colonel McMullen's biological father,
Major Arthur Dow Newman, US Army as
Lieutenant.
Major Newman is the biological father of Colonel McMullen. However, on 1 July 1922, Major Newman participated in a government polo tournament and sustained a terminal spinal injury. In a collision with another polo rider his spine was broken and the major died at 10 o'clock PM the same evening. He is buried in Arlington Cemetery.
<![if !vml]>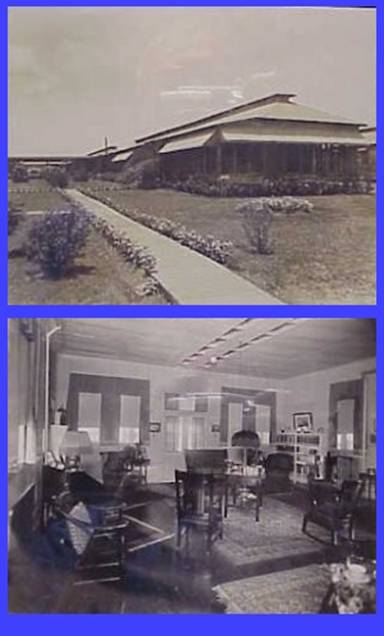 <![endif]>
Figure 3: The home of Brigadier General
Edward M. Lewis, US Army at Camp
Travis, Texas.
In 1926, Adelaide married Major General Clements McMullen, Army Air Corps. The two children Edward and Frank are adopted by General McMullen and bear his name; Edward Lewis McMullen and Frank McCoy McMullen.
Colonel McMullen attended Hampton High School, Hampton, Virginia from 1935 to 1937. Upon graduation he was admitted to the University of Florida, Gainesville, Florida. He took after his father, Clements McMullen, and majored in engineering from September 1937 to June 1939. In 1940, Frank received his appointment to the United States Military Academy at West Point. He graduated from West Point in 1943 with a BS in civil engineering.
Lieutenant McMullen graduated from West Point during World War II. After graduation, he was sent to Smyrna Air Base, Smyrna, Tennessee for additional flight training. On 1 December 1943 he was promoted to First Lieutenant.
On 8 February 1944, Lieutenant McMullen was attached to the 490th Bomb Group, 849th Bomb Squadron (H) that was presently located at the Army Air Field in Mountain Home, Idaho. There he was trained as a B-24 bomber pilot. On 10 April 1944 the 490th was given a temporary change of station to the 273rd Army Air Force Base Unit (SB), Lincoln Army Air Field, Lincoln, Nebraska. While at this temporary station the 490th received orders for their permanent overseas destination on 22 April 1944.
The 490th was to leave Lincoln Army Air Field and head for the air port of embarkation which was the Caribbean Wing, ATC, Morrison Field, West Palm Beach, Florida and then, after re-supply head to their permanent overseas destination. Lieutenant McMullen was part of crew number 5464-TZ 35 and piloted the B-24 airplane number 42-94927.  Their destination was England and upon arrival the 490th Bomb Group was attached to the 8th Air Force. While attached to the 490th Bomb Group, Lieutenant McMullen also flew missions as first pilot in a B-17.
On 8 December 1944, Lieutenant McMullen received orders that detached him from the 490th Bomb Groups and had him report stateside to Fort Sam Houston, San Antonio, Texas. After reporting to Fort Sam Houston in December, he was assigned to the 1040th Army Air Force Base Unit, Army Air Force Redistribution Station number 4, Santa Ana Army Air Base, Santa Ana, California for processing and reassignment. He was to report to the Redistribution Station no later than 22 January 1945.
On 17 February 1945, Lieutenant McMullen was reassigned as the assistant to the Assistant Chief of Staff for Plans, Headquarters, Army Air Forces Training Command, Fort Worth, Texas. He was promoted to Captain on 26 March 1945. While assigned to the AAF Training Command, he completed a course of instruction AAFIS (Instrument Pilot) while on temporary duty at Bryan Army Air Field, Bryan, Texas.
One 25 July 1945, Captain McMullen, once again, is reassigned to another permanent station. He was assigned to Headquarters Far East Air Forces, Manila, Philippine Islands and was to report to his duty station no later than 7 August 1945.  Upon his arrival in the Philippines, he was assigned to the Fifth Air Force. The exact location is not known but his reassigned Army Post Office (APO) number is 710 and his reporting date was 16 August 1945.
On 2 February 1946, Captain McMullen was reassigned to Japan. By this date he is assigned to Headquarters, Itami Army Air Base, 46th Air Service Group and is the Squadron Commander of the 70th Bombardment Squadron (L) APO 660 (Japan). He appoints himself Custodial Officer of the Squadron Fund.
In 1946 the captain experienced a number of transfers and assignments. For a short period of time he was assigned to the 5th Bomber Command APO 994, 13th Bomb Squadron of the 3rd Bomb Group (L) APO 328, and Headquarters 317th Troop Carrier Group APO 704. On 17 October 1946 Captain McMullen was assigned as an alternate to an Aircraft Accident Investigation Board for the 46th Troop Carrier Squadron, 308th Bomb Wing (L) APO 712.
By 5 March 1947 Captain McMullen is stationed at Tachikawa Army Air Base, Honshu, Japan. He is assigned to the 41st Tr Carr Squadron, 317 TCG and is the Summary Court Officer for "the trial of such persons as may be properly brought him." On 13 June 1947 the Captain was granted a fourteen-day leave of absence in order to go to Nagoya Army Air Base APO 710 for non-specified reasons.
On 24 October 1947 Captain McMullen was given clearance for a goodwill run. Using a C-54 aircraft, tail number 27-2732, he proceeded to Cairo, Egypt after landing at Kiangwan Airfield Shanghai and making contact with the Chinese Ministry of Health. One hundred twenty-eight cases of Cholera Vaccine were obtained. Sixty-four cases were to be delivered to the American Legation at Jidda, Saudi Arabia and the remaining sixty-four cases were to be delivered to the Ministry to Public Health, Cairo, Egypt. After delivery of the vaccine the C-54 and crew were to return to Tokyo.
On 10 December 1947, Captain McMullen was ordered to report to his father, Major General Clements McMullen, who, at the time, was located at Andrews Air Force Base (Andrews Field) as the Deputy Commander of the Strategic Air Command. While he was at Andrews Air Force Base he received his Determination of Departmental Status on 31 December 1947 that designated him as a member of the newly separated United States Air Force. On 16 January 1948 he was assigned to the 509th Bomb Wing, 393rd Bomb Squadron, Walker Air Force Base (Roswell Air Field), Roswell, New Mexico. He was to report there no later than 20 January.
<![if !vml]>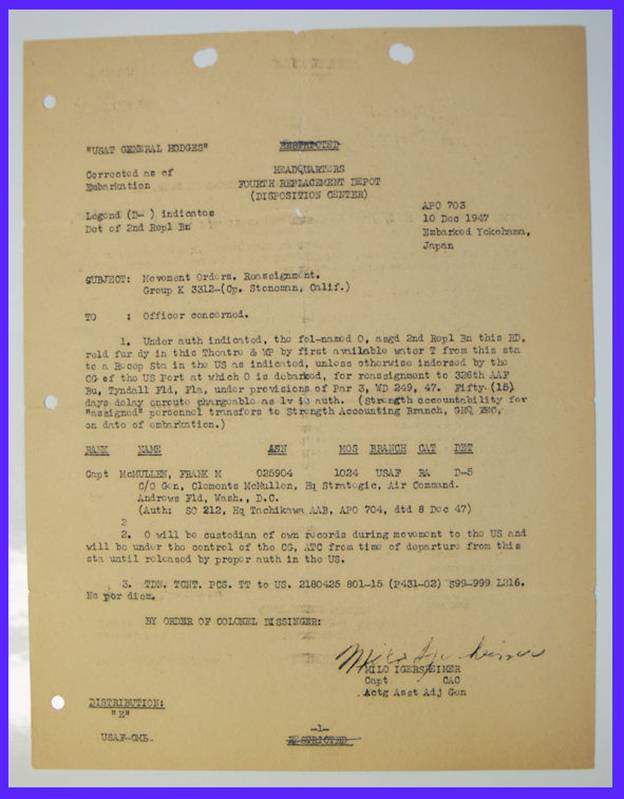 <![endif]>
Figure 4: The orders received by Captain McMullen ordering him to
Andrews Air Force Base and to report directly to his father,
Major General Clements McMullen dated 10 December 1947.
<![if !vml]>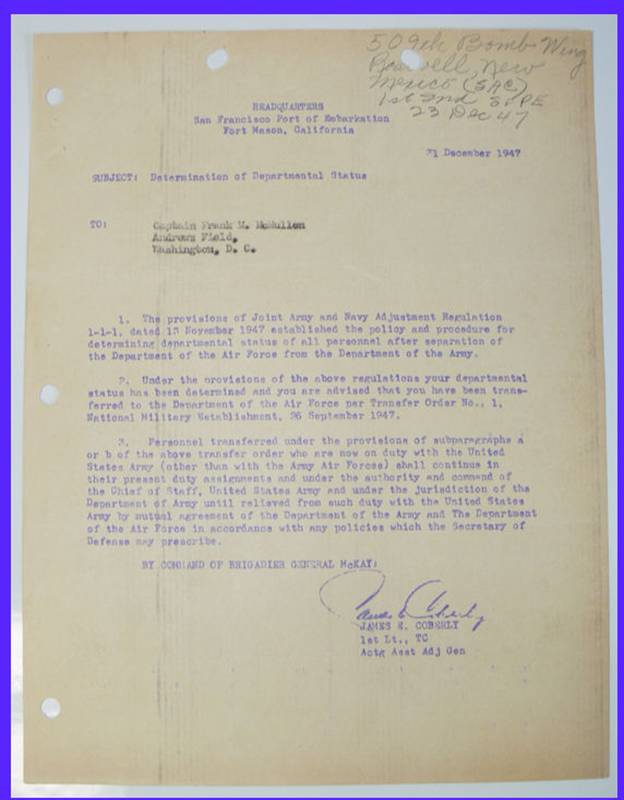 <![endif]>
Figure 5: After arriving at Andrews Field (Andrews Air Force Base),
on 31 December 1947 Captain McMullen Received his official
notification that he has been attached to the newly formed US Air Force
and is no longer in the US Army. On the top right of these orders he wrote
down his next assignment, 509th Bomb Wing, Roswell, New Mexico.
Upon his arrival at Roswell Air Field, he was placed on temporary duty for an indefinite period of time in order to attend the base 1037 school. His present MOS (AFSC Air Force Specialty Code) was 1024, however, there was no indication as to the purpose or title of the 1037 school. On 29 April 1948, he is granted a ten-day leave of absence and he goes to visit his biological grandfather, Brigadier General E.M. Lewis in Berkeley, California.
On 17 August 1948 Captain McMullen was appointed as Summary Court Officer for the purpose of administrating the personal effects of TSgt Clyde N. Vanderslice, AF-18034166, deceased. The orders do not say what caused the death of TSgt Vanderslice. However, his son, Rick Vanderslice, is a personal acquaintance of mine and he explained to me that his father died in a B-29 crash which departed from Roswell Air Field. Rick stated that the plane was overloaded with men and cargo and went down. Rick Vanderslice did not remember any personal effects from his father. To date, I have found no records of a B-29 crash that departed from Roswell Air Field within the time frame mentioned. However, I have to admit, more research is needed in regard to the B-29 crash.
On 5 October 1948 Captain McMullen is placed on temporary duty for approximately twelve days and is sent to Greenville AFB, South Caroline for the purpose of testing special equipment. In 1947 Greenville Air Force Base, South Carolina had reactivated as the global headquarters for the Military Air Transport Service, MATS. It remained an administrative facility for several years. Greenville AFB was renamed Donaldson AFB in 1951.
On 3 November 1948 Captain McMullen is placed on temporary duty and flies to San Antonio, Texas for the purpose of ferrying military personnel. On 19 November 1948 he is appointed to a Board of Review for Technical Orders and Equipment. On 23 December 1948 he takes a five-day leave for Kelly Air Force Base, San Antonio, Texas. On 25 January 1949 he had the MOS specialty 1091 removed from his file. On 22 March 1949 he is placed on temporary duty for approximately four weeks and is sent to MacDill AFB in Tampa, Florida for the purpose of attending Medium Bomb Transition Training School.
From 22 March 1949 to 11 December 1950 there is a gap in his orders. From May to August 1949, he completes Air Tactical School. By the end of 1950, Captain McMullen completed the required course of instruction at the US Air Force Navigation School at Ellington Air Force Base, Houston, Texas  and is rated an Aircraft Observer (Navigator) effective 19 December 1950. He received this order from the Headquarters, Air Training Command at the time located at Scott Air Force Base, Illinois. Following his training he was given a 10 day leave at which his leave address was General Clements McMullen Hq SAAMA (San Antonio Air Materiel Area), Kelly AFB, Texas.
After his leave he was assigned to sixteen weeks of temporary duty to Mather Air Force Base, California to attend courses #103700 and course #103701 which commenced on 24 February 1951. The courses were for the rating of Aircraft Observer (Bombardment), MOS 1037. After the completion of the courses, he was assigned to MacDill Air Force Base, Florida and attached to the 305th Bombardment Wing Medium, 365th Bomb Squadron. He received his Aircraft Observer (Bombardment) rating on 23 May 1951 and change in MOS. As a member of the 365th Bomb Squadron he attended the Swimming and Basic Survival Training Courses which commenced on 30 July 1951.
There is another large gap in his orders from 11 September 1951 to 5 April 1963. However, on 8 September 1951, Captain McMullen received notification from Headquarters Strategic Air Command that he was promoted to the rank of major. On 22 March 1954, he receives notification that he continues to hold the Aero Observer ratings in navigation and bombardment. A lack of orders during this time period can be partially explained by the fact he attended courses in 1959 on Celestial Mechanics at Georgetown University. In addition, from July 1960 to June 1962 he completed his MS (Masters of Science) degree in Aeronautics and Astronautics at MIT, Cambridge Massachusetts. He also completed Command and Staff School in the period from September 1955 to June 1956.
Following the large gap in time, Major McMullen emerges as Lieutenant Colonel McMullen and is informed that he is relieved from his assignment at Headquarters, Air Proving Ground Center, Air Force Systems Command, Eglin Air Force Base, Florida and is assigned to Headquarters, Air Force Special Weapons Center, Air Force Systems Command, Kirtland Air Force Base, New Mexico and is to be involved with Air Force Systems Command project number 3R053. He will continue to work for the Air Force Special Weapons Center till 27 August 1965. For the time being, he will have public quarters assigned to him at 2026B Castle Place, Albuquerque, New Mexico. On 6 January 1965, he is advised that he is to attend the Executive-Power Seminar on the 28th to the 31st January 1965. There are a multitude of orders that deal with record reviews, physical examinations and Medical Fitness Programs. The orders carry dates and continue to place Colonel McMullen at the Air Force Special Weapons Center, Kirtland Air Force Base.
There is only one document/letter dated 5 August 1965 that alludes to the colonel's job description while stationed at the Air Force Special Weapons Center at Kirtland Air Force Base. Seems he was currently involved with Development Engineering but headquarters was planning a reassignment. The letter is written to Headquarters, 4900th Air Base Group, Air Force Special Weapons Center, Kirtland Air Force Base, New Mexico. In the letter he states that his "education in astronautics would be largely wasted in an assignment in AFSC 2616." However, he did "not plan to take additional action that would preclude my being reassigned."
Colonel McMullen's reassignment followed through. In August 1965 he was assigned to Headquarters, Office of Aerospace Research, Washington, D.C. as Chief, Physical Sciences Division, Directorate of Research Programs, DCS/Plans and Programs. In this capacity he was responsible for the overall Office of Aerospace Research programs for basic research in the physical sciences. The position called mandatory MS degree in one of the physical sciences or engineering or a PhD in physics, chemistry or mathematics. The colonel was a civil engineer and had an MS in Aeronautics and Astronautics.
Colonel McMullen was assigned to the Office of Aerospace Research, Washington, D.C. by the end of August 1965. There were no other orders following until 16 May 1966 where he receives notice that he is being relocated to the Architect's Building, 1400 Wilson Blvd., Arlington, Virginia, 22209. His duty station prior to the move was Tempo D Building, 4th & Independence Ave., SW., Washington, D.C., 20333. Colonel McMullen held a Top Secret security clearance and was involved in classified projects. There are orders which place him on TDY (Temporary Duty) that state that he:
"will proceed at such time as may be necessary during the period
(from date to date), both dates inclusive from Arlington, Va.,
to such places as may be necessary within the continental US, on
TDY in support of OAR (Office Aerospace Research) research
programs, and upon completion of each mission return to
Arlington, Va. … Individuals are cleared for access to classified
material (as indicated above) for the period and purpose of
this order."
The rear of the orders gave the officer instructions on what to do, while on TDY, in case of limited war or mobilization and how to travel and the type of housing to be used which would meet security requirements. The orders have him going to locations at Cambridge, Massachusetts, Towson, Maryland, and Wright-Patterson Air Force Base, Ohio. There were probably other locations but the ones listed were the only ones directly or indirectly mentioned within the documents of the estate collection. In addition, there are orders requiring him to keep up to date with annual requirements for small arms firing.
At this point, Colonel McMullen's US Air Force career heads toward closure. On 31 October 1967, Colonel McMullen is appointed to the OAR Command Equipment Management Team (CEMT). An official memo appears dated 13 May 1968 in which he requests early retirement effective 1 November 1968. It seems the request was disapproved. During the course of his tenure with the OAR, the colonel's AFSC changes and ho hold multiples AFSC's in 2711, 2716, 2816 and 2845A. However, his official title upon retirement is Headquarters, Office of Aerospace Research, Chief, Engineering Sciences Division, Directorate of Research Programs. Though his initial request to retire appeared to have been dissaproved, his retirement processing was scheduled on 5 November 1968. The processing date was followed by a terminal leave after which he retired on 1 January 1969.
During World War II, Colonel McMullen was awarded the Air Medal. He was authorized to wear the Air Force Outstanding Unit Award which was presented to the Office of Aerospace Research for accomplishments during the period of 1 April 1964 to 31 March 1966.
Following his retirement, Colonel McMullen lived in Arlington, Texas but worked in Dallas, Texas. He started working for LTV Aerospace Corporation in Dallas, Texas as Project Engineer in Applied Research and Development. Because of a conflict of interest, he had to state that LTV had no current contracts with the OAR and the only completed contracts were under Project 8803 which were monitored by the Air Force Weapons Laboratory. He planned on going back to school, starting 31 August 1970, and attaining a PhD from the University of Dallas in Irving, Texas but it is not clear if he completed his degree and, if so, what area of study. Colonel McMullen died February 11, 1989 and is buried in the National Cemetery at Fort Sam Houston, San Antonio, Texas with his father, Major General Clements McMullen, USAF.