General Frank Fort Everest, USAF
Retired September 30, 1961
Died October 10, 1983
<![if !vml]>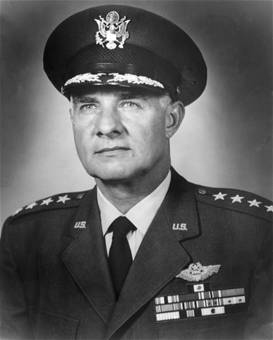 <![endif]>
Figure 1: Courtesy of the United States Air Force Web Site
<![if !vml]>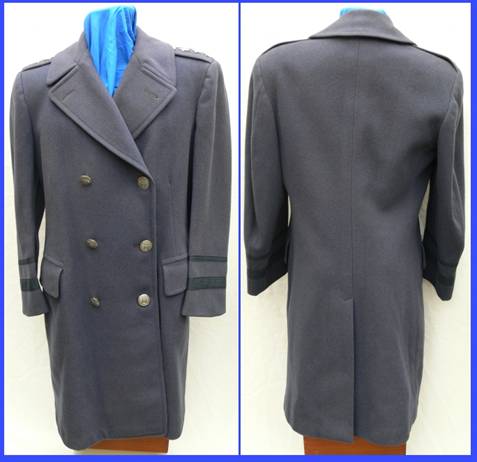 <![endif]>
Figure 2: Early regulation first design overcoat from
the estate of General Everest
A beautiful example of the early design USAF overcoat. Identified general officer uniform grouping from General Frank Fort Everest, USAF. This grouping includes only the general's overcoat. Obtained for this collection from National Capital Historical Sales of Arlington, Virginia from the estate of the general.
<![if !vml]>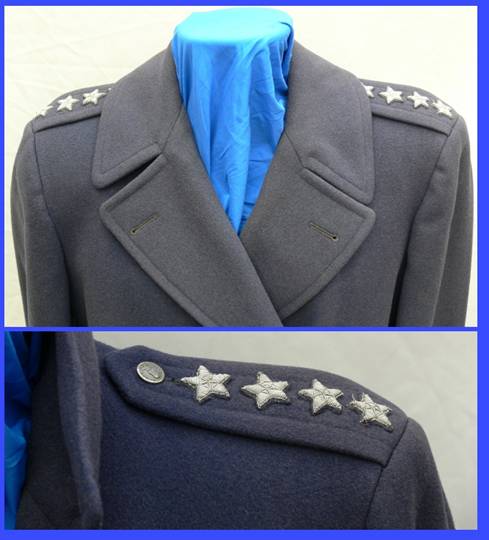 <![endif]>
Figure 3: Aluminum bullion stars with matched backing.
General Everest's overcoat was purchased from "S.H. Berman," "The Uniform Store," located in the Pentagon Building, Washington, D.C. The store tag is found inside the uniform with the general's name embroidered on the store tag.
The overcoat is a double-breasted, six button, beltless model with convertible collar and two buttons under the collar for closing at the neck. The overcoat is fully lined with lining cloth of USAF blue shade 88. The shoulder loops or epaulettes are to extend across the top of the shoulder under the collar. The buttons used on the overcoat are the large 45 ligne one and one-eighth inch on the coat and 25 ligne five-eights inch on the epaulettes. There are two lower hanging pockets with flaps, with cash pocket inside the right lower pocket and inside breast pocket on the right side.
The early, first design, USAF Shade 84 topcoat have a distinctive blue color that is different from later shade Air Force uniforms. The early shade 84 will have a light silver or gray blue effect while later Air Force uniforms will have a deeper blue without the silver or gray effect. However, some shade 84 uniforms produced by overseas venders may have a deeper blue tone.
Accessory items authorized for wear with the overcoat are gloves and mufflers. The gloves were to be double weave, cotton, gray and gray grain or suede leather. Mufflers were to be all wool, flat-knit, or tubular knit, gray, finished with or without napped surface, width not to exceed ten inches.
<![if !vml]>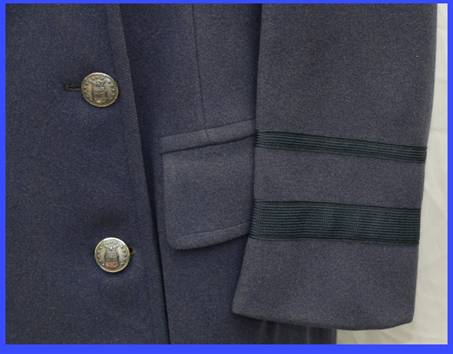 <![endif]>
Figure 4: Only the general rank overcoat displays the dual arm bands
on the sleeve of the overcoat.
All general rank officers were required to have sleeve braid on their overcoat. The sleeve braid distinguished them from all other officers. Overcoats used by other officers had no sleeve braid. The braid consisted of two mohair bands around the bottom location on the overcoat sleeve. It would be a one and one-fourth inches braid beneath a one-half inch braid, USAF Blue shade 95. The bottom thick braid would be located two and one-half inches from the bottom of the sleeve. There is a one and one-half inch separation between the lower and upper braid. The rank of the officer was worn on the shoulder epaulettes.
EXAMPLES FROM
GENERAL OFFICERS