EDUCATIONAL
LINKS
<![if !vml]>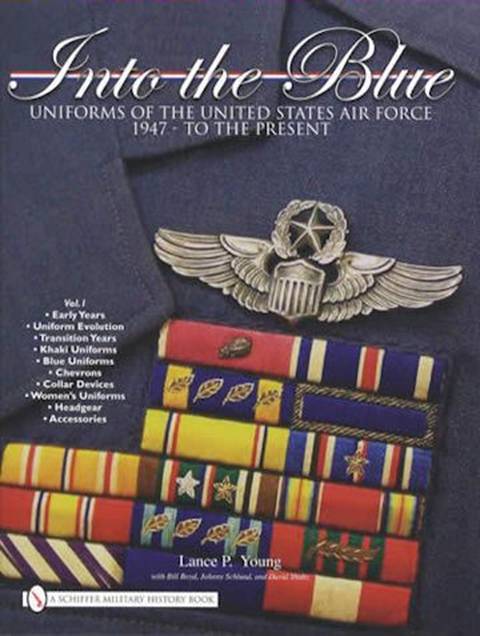 <![endif]>
INTO THE BLUE
Uniforms of the United States Air Force 1947 – To Present
By:
Lance P. Young
Bill Boyd, Johnny Schlund, and Dave Shultz
Published by Schiffer Military Books
The definitive source for collecting
US Air Force uniforms
"Into The Blue…. is indeed a scholarly and complete book
of the Air Force uniform transition from the
Army Air Corps to the United States Air Force…
"Into the Blue" richly deserves a resounding
"Well Done!" for the extensive research
and the stunning layout."
GENERAL JOHN L. PIOTROWSKI, USAF (RET.)
Obtain your copy at:
Schifferbooks.com
Amazon.com
Ebay.com
Your favorite book store outlet.
WEB SITES
AIR FORCE HISTORICAL RESEARCH AGENCY AFHRA
AIR FORCE HISTORY STUDIES OFFICER AFHSO
DEFENSE ACQUISITION HISTORY PROJECT
USAF CHEVRON HISTORY, MAXWELL AFB
WARTIME COLLECTABLES MILITARY ANTIQUES
(VIETNAM US MEDALS ENGRAVING STYLES)
(REPRODUCTIONS AND FAKE ITEMS)
WRIGHT FROM THE START, WRIGHT-PATTERSON AFB
MUSEUMS AND EDUCATIONAL CENTERS
ALABAMA
ARIZONA
390TH BOMB GROUP MEMORIAL MUSEUM
ARKANSAS
GENERAL JOHN PAUL MCCONNELL, USAF
CALIFORNIA
AEROSPACE MUSEUM OF CA, MCCLELLAN AFB
CENTRAL CA HISTORICAL MILITARY MUSEUM
P-38 NATIONAL ASSOCIATION AND MUSEUM
SAN DIEGO AIR AND SPACE MUSEUM
STOCKTON FIELD AVIATION MUSEUM
COLORADO
PETERSON AIR & SPACE MUSEUM, PETERSON AFB
WINGS OVER THE ROCKIES AIR & SPACE MUSEUM
DELEWARE
AIR MOBILITY COMMAND MUSEUM, DOVER AFB
FLORIDA
CAPE CANAVERAL AIR FORCE STATION
NATIONAL AERONAUTICS AND SPACE ADMINISTRATION NASA
USAF ARMAMENT MUSEUM, EGLIN AFB
GEORGIA
MUSEUM OF AVIATION, ROBINS AFB
ILLINOIS
GREATER ST. LOUIS AIR & SPACE MUSEUM
INDIANA
AMERICAN MILITARY HERITAGE FOUNDATION
KANSAS
LOUISIANA
8TH AIR FORCE MUSEUM, BARKSDALE AFB
WEDELL-WILLIAMS AVIATION MUSEUM
MARYLAND
MICHIGAN
MINNESOTA
MONTANA
NEBRASKA
NEW JERSEY
BERLIN AIRLIFT HISTORICAL FOUNDATION
MILLVILLE ARMY AIRFIELD MUSEUM
NEW MEXICO
NEW YORK
EMPIRE STATE AEROSCIENCES MUSEUM
NORTH CAROLINA
WRIGHT BROTHERS NATIONAL MEMORIAL
OHIO
NATIONAL AVIATION HALL OF FAME
OKLAHOMA
KILPATRICK SCIENCE & AIR SPACE MUSEUM
OREGON
SOUTH DAKOTA
SOUTH DAKOTA AIR & SPACE MUSEUM, ELLSWORTH AFB
TENNESSEE
MEMPHIS BELL MEMORIAL ASSOCIATION
TEXAS
AMERICAN AIRPOWER HERITAGE MUSEUM
HISTORIC AVIATION MEMORIAL MUSEUM
NATIONAL MUSEUM OF THE PACIFIC WAR
UTAH
VIRGINIA
WASHINGTON
ARMED FORCES & AEROSPACE MUSEUM